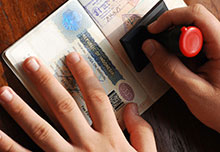 VISA APPLICATION TO CHINA
All foreigners must obtain an entry visa before proceeding to China. Exhibitors are strongly recommended to process the application one month before departure from the country of origin.
EXHIBITORS WITH INVITATION
All the applicants for visas are required to have an Invitation Letter from the Chinese authority. We will coordinate and forward the information of the application to the Chinese authorities for issuing the Invitation Letter which will be ready within 7 days and presented to your company by fax or email.Upon receipt of this visa authorization, the applicant is required to present his/her passport, a recent photograph, a completed visa application from (available from local Chinese Embassy) and forward to the local Chinese Embassy or Consulate for completion of the formalities.
Please Contact:
Times international conference & exhibition co., Ltd.
Kevin Hao
Tel: 86 10 64462841
Fax: 86 10 64462177
E-mail: reservation@sdlm.cn