Welcome to inter airport China 2020
inter airport
China, which has been known as the No.1 exhibition of domestic airport equipment by the industry, has successfully held eight editions in Beijing, witnessing the rapid and healthy development of our national airport construction in the past 14 years. As the largest and most influential airport construction specialization exhibition in the Asia-Pacific Area,
inter airport
China has now become an international event in the field of technology, equipment, and services for in-depth cooperation between the supply and demand parties and the development of airport construction in the region. Meanwhile it is also the sister show of
inter airport
Europe and
inter airport
South East Asia.
A total of
4,314
industry buyers filled the aisles at the latest edition of
inter airport
China. In what was already a record-breaking edition in terms of exhibition space, equating to a
19%
increasing on the exhibitor number,
22%
increase on the visitor number and
20%
increase of the net area of booth compare to the 2016 show. At the exhibition, you can see the most innovative products and the most advances ideas brought by
240
enterprises and brands from
20
countries and regions, while you can also see decision makers from the top 50 airports and major airlines. This fully demonstrates that
inter airport
China not only establishing a platform for exchanges and cooperation between domestic airports and world-renowned airport equipment suppliers, but also plays a positive role in promoting the construction and development of China's civil airports.
Highlights
·

Meet the Chinese Aviation Authorities -
Master China's aviation blueprint and a peek into the latest industrial insde news
·

Tailored "Meet the buyer" Programme
- Invite buyers from top 50 Chinese airports and new airport projects
·

An Even Bigger Outdoor Display Area
- Showcase more comprehensive airport ground support equipment

Buyer Invitation Services

In order to enhance your participation experience with us, we provide the following services to all of our exhibitors.

•Tailored E-shots and Wechat promotions
•Personal invitations to 20,000 targeted Chinese and Asia airport professionals
•Cooperation with Chinese and international leading associations and media
•Matchmaking service
•Press releases and show preview
•Other online marketing packages

The inter airport Family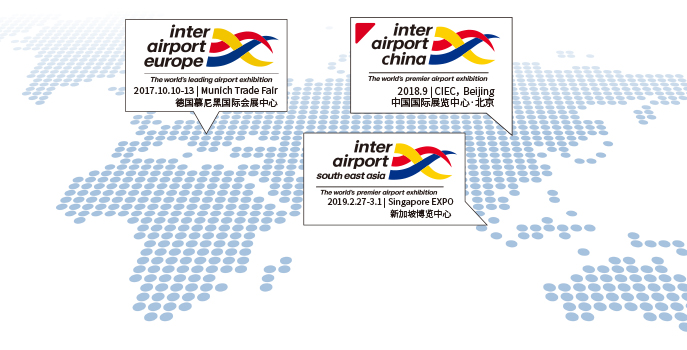 Organiser



Reed Exhibitions is the world's premier exhibitions company and has a growing portfolio of over 500 events in over 30 countries and a staff of 4,200 exhibition specialists. Today Reed events are held across Americas, Europe, the Middle East, Asia Pacific and Africa, serving 43 sectors. It is part of the RELX Group, a provider of information solutions for professional customers.
Currently, Reed Exhibitions Greater China has over 550 employees to serve 11 industries: Automotive Manufacturing & Aftermarket • Electronics Manufacturing & Assembly • Entertainment & Pop Culture • Flowers & Gardening • Food & Hospitality • Gifts & Homeware • Marine, Energy, Oil & Gas • Medical, Pharmaceuticals & Healthcare • Metalworking & Industrial Materials • Printing, Converting & Packaging • Property & Travel.
In 2018, Reed Exhibitions Greater China held over 65 events, bringing together more than 1.15 million visitors. Our events hosted more than 30,000 exhibitors with over 1.8 million square meters of show floor space.
www.reedexpo.com.cn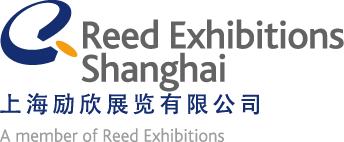 Reed Exhibitions Shanghai is a number of Reed Exhibitions

China Aviation Supplies Holding Company is a state-owned key enterprise managed by the State-owned Assets Supervision and Administration Commission of the State Council, is specialized in aircraft package purchase of aircraft and the support services in aviation materials. CAS has a business scope mainly related to Package Purchase of Aircraft,Aviation Leasing,Industrial Cooperation, Aviation Training, Pooling of Aircraft Material, Aviation Maintenance, Ground Equipment and Engineering Support, Bidding and Tendering Business, Civil Aviation Exhibition, Navigation Technology, Airport Construction, Aircraft Carpet Production, Aviation Energy-saving Services and General Aviation operation, support, manufacturing, rescue and emergency.
http://www.casc.com.cn/cas/en/

China Civil Aviation Technology and Equipment Co., Ltd. has long been engaged in the introduction and sales of airport ground support equipment and new technologies, and continuously improves its comprehensive support capabilities. The products include airport de-icing equipment, aircraft maintenance equipment, airport maintenance equipment, airport fire rescue equipment, civil aviation communication navigation equipment, airport meteorological self-contained system, aircraft berth guidance system, airport navigation lighting and monitoring system, GBAS ground-based augmentation system, aircraft boarding bridge, airport new energy vehicles and other civil aviation special equipment. It has introduced tens of thousands of airport special equipments for more than 180 airports nationwide and other major civil aviation construction projects, including Beijing Capital Airport, Shanghai Pudong Airport and Hongqiao Airport, Guangzhou Baiyun Airport and Chongqing Jiangbei Airport, etc.
In recent years, the company's sales business has continued to expand, and has maintained good relations of cooperation with Schmidt (Germany), Schmitz (Germany), MB(US), JBT(US) and ASFT (Sweden), ADB Safegate BVBA (Belgium) and other manufacturers.
www.avitec.com.cn

CAS Beijing Haner Aviation Service Co., Ltd (CAS Haner jets) Created in 2008 on March, it belongs to the China Aviation Supplies Holding Company. It has been specialized in rent aviation special equipment and organize aviation equipment Expo for many years and wholeheartedly provides customers with safe, efficient and high-quality services.
All the year round, many airlines guarantee special tooling equipment to pick up and borrow, create a general aviation sharing platform, and provide customers with all-round support services in tool equipment, aerospace parts, technical support and special equipment.
www.hanerjets.com/en/