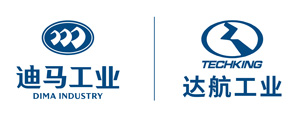 重庆达航工业有限公司系重庆迪马工业有限责任公司(重庆东银控股集团下属机械事业部的中国专用汽车制造领军企业,专业从事高技术专用车的研制,生产和销售,股票代码600565,于2002年7月在上海证券交易所上市)旗下的全资子公司,专注于航空特种设备的的研制、生产和销售。致力建设成为世界一流的机场地面运输设备制造和服务企业。
达航公司拥有获得民航总局产品资质的过滤式飞机清水车,抽吸式飞机污水车,环保型航空垃圾接收车,飞机食品车,飞机客梯车,飞机传送带车,飞机清洗车、残疾人登机车、行李牵引车、货运平台车、飞机地面电源车机场、飞机除冰车以及各大、中、小型飞机牵引车等13类39种产品。公司目前正在进行全系列产品电动化研发,并通过对产品控制采用"CAN总线"智能化改造升级,后续将全面支持地服设备及其他机场地勤设备调度智能化的使用,以填补"智慧机场"在机场地面服务设备及管理上的空白。
旅客登机梯(电动式)是重庆达航工业有限公司最新设计研制的一种新型登机梯。该车采用以纯电能作为驱动力,自研民航专用底盘加装上下梯身、活动舷板、斜撑升降装置、平台总成、前后支腿、液压系统、电气系统等而成。登机梯平台离地高度2300mm~5800mm。该产品结构强度高,升降范围宽,续航能力强,技术先进,功能完备,满足全国大部分机场使用。
飞机牵引车(电动式)为重庆达航工业有限公司自行设计开发的中型新能源飞机牵引车,该车的优越性能包括:四轮驱动、四轮液压转向、四轮液压制动、三种转向模式(前轮、四轮、蟹行)、驾驶室升降及紧急回落等等。驾驶室及车身采用大圆弧流线型,整车结构紧凑、重心较低,外形高度较低,可自由行驶于大型飞机下。最大牵引力为220kN,能推运或拖拉最大起飞重量小于等于280吨的中小机型飞机。
Chongqing Techking Industry Co., Ltd. is a wholly-owned subsidiary of Chongqing Dima Industry Co., Ltd. (China's leading manufacturer of special purpose vehicles under the machinery division of Chongqing Dongyin holding group, specializing in the development, production and sales of high-tech special purpose vehicles, stock code: 600565, listed on the Shanghai Stock Exchange in July 2002), which focuses on the special equipment of aviation Development, production and sales. Committed to building a world-class airport ground transportation equipment manufacturing and service enterprises.
Techking company has the product qualification of China Civil Aviation Administration, such as filter type aircraft clean water vehicle, suction type aircraft sewage vehicle, environmental protection type aviation waste receiving vehicle, aircraft food vehicle, aircraft passenger step vehicle, aircraft conveyor belt vehicle, aircraft cleaning vehicle, disabled boarding vehicle, luggage tractor, cargo platform vehicle, aircraft ground power supply vehicle, aircraft deicing vehicle and large, medium and small aircraft tractor, There are 13 categories and 39 kinds of products. The company is currently developing a full range of product electrification, and adopt the "CAN bus" the intelligent transformation and upgrading through product control, it will fully support the intelligent use of ground service equipment and other airport ground handling equipment to fill the "smart airport" Gap in airport ground service equipment and management.
Passenger boarding stairs (electric type) is a new type of boarding stairs designed and developed by Chongqing Techking Industry Co., Ltd. The vehicle uses pure electric power as the driving force, and the self-developed civil aviation special chassis is equipped with upper and lower ladders, movable side plates, diagonal support lifts, platform assemblies, front and rear outriggers, hydraulic systems, and electrical systems etc. The height of boarding ladder platform from the ground is 2300mm to 5800mm. This product has high structural strength, wide lifting range, strong endurance, advanced technology and complete functions, which can meet the needs of most airports in China.
The aircraft tractor (electric type) is a medium-sized new energy aircraft tractor designed and developed by Chongqing Techking Industry Co., Ltd. its advantages include: four-wheel drive, four-wheel hydraulic steering, four-wheel hydraulic braking, three steering modes (front wheel, four-wheel, Crab Row), cab lifting and emergency falling back, etc. The cab and body are of large arc streamline type, with compact structure, low center of gravity and low profile height, which can be freely driven under large aircraft. The maximum traction force is 220kn, which can push or pull small and medium-sized aircraft with maximum takeoff weight less than or equal to 280 tons.