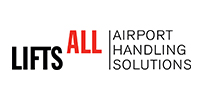 Lifts All Airport Handling Solutions improve your baggage handling and help create a sustainable work environment without any work related injuries or wear-and-tear complications, common when lifting manually. We increase the speed of luggage handling and optimize the transit time, which also improves the customer satisfaction.

Lifts All AHS is located in Stockholm, Sweden and have been providing innovative lifting solutions since 1994. Today we offer over 3000 different lifting solutions to our customers and dealers all over the world. Thanks to our great knowledge and experience of lifting equipment we are able to develop, customize and manufacture products – all under one roof. We of course also offer installation, support and service.

Lifts All Airport Handling Solutions have worked closely with great airports to create ultimate lifting solutions for the airport industry. Some of our biggest customers are Amsterdam Schiphol Airport, Stockholm-Arlanda Airport, Helsinki-Vantaa Airport and London Heathrow Airport. Today we offer the smartest products on the market that make loading and unloading of baggage extremely simple. They are easy to control, versatile and prevent damage to your customer's bags. We can customize our products to be used by all airports, big or small. Heavy lifts are no longer needed!