New Beijing airport aiming to be the world's busiest
Daxing, a mega aviation hub to serve the Chinese capital and other cities in the northeast, will have eight runways and handle over 100 million people

Beijing's new international airport is swiftly taking shape in a southern part of the Chinese capital, 46km south of Tiananmen Square. Daxing, as it is likely to be known, is slated to see its first plane take-off from one of four runways in October next year.

Huge is the best way to describe the airport, which will be the aviation hub of northern China, serving Beijing plus cities and satellite towns in that populated region.

Beijing hopes that Daxing can beat Hartsfield–Jackson Atlanta in the US to become the world's busiest airport in terms of passengers within a few years. Atlanta's airport handled just under 104 million passengers in 2017, while the Beijing Capital International Airport was the runner-up with 95.8 million, according to the Airports Council International.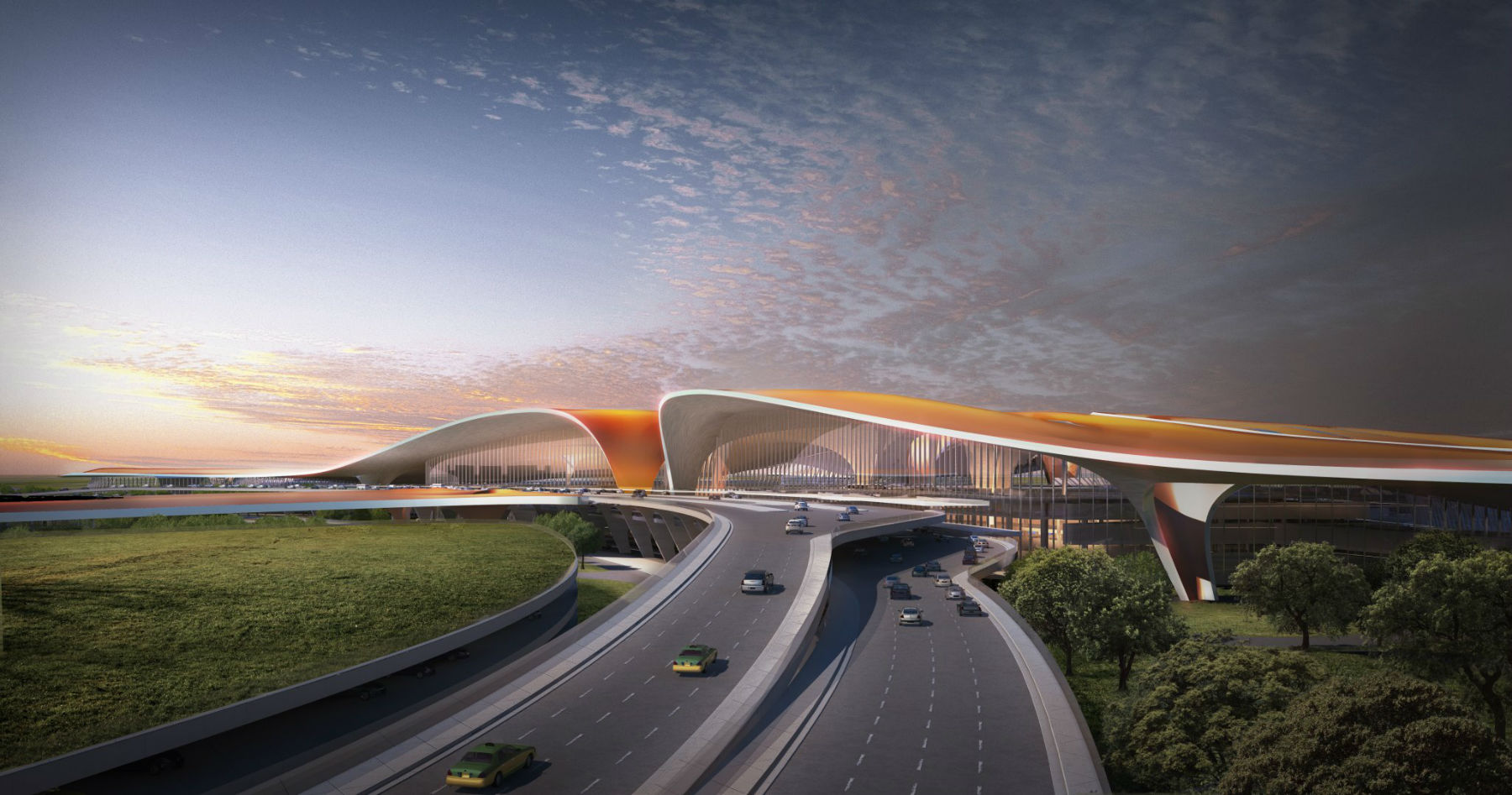 The exterior of the departure hall. Photo: Zaha Hadid Architects


The total gross floor area of Daxing's starfish-shaped terminal complex is over one million square meters, larger than Beijing Capital International Airport's 986,000-square-meter Terminal 3, which was completed in 2008 as a key image project for the Beijing Olympics.

The terminal at Daxing is designed by Zaha Hadid, a renowned Iraqi-British architect. It features a cavernous concourse, or Central Atrium, and six curved "spokes" measuring up to 411 meters, with 79 tentacle-like aerobridge gates capable of serving up to 100 million passengers and 4 million tons of cargo a year once fully operational.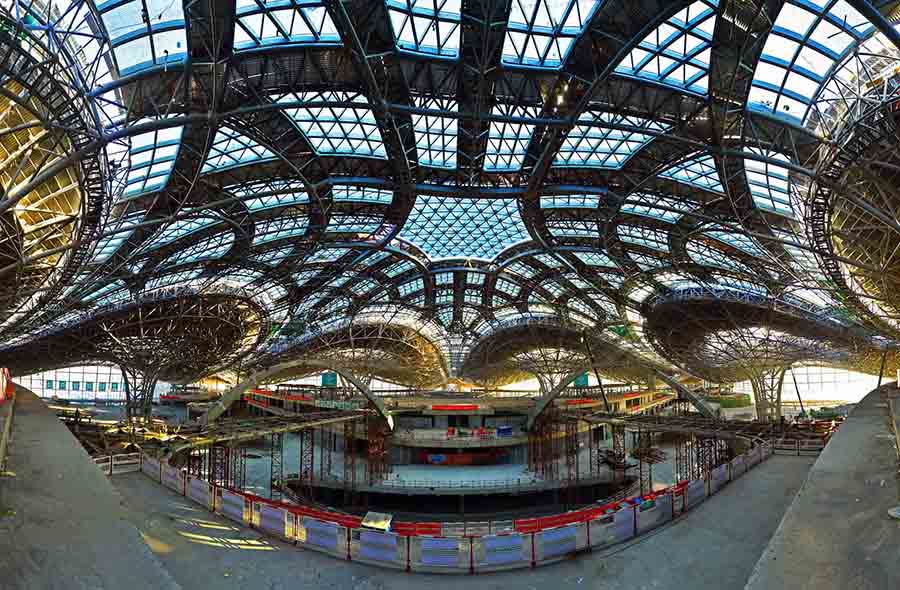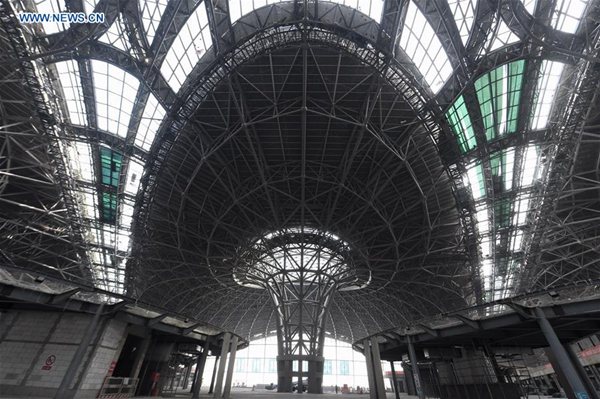 A view of the interior of the new airport's Central Atrium. Photos: Xinhua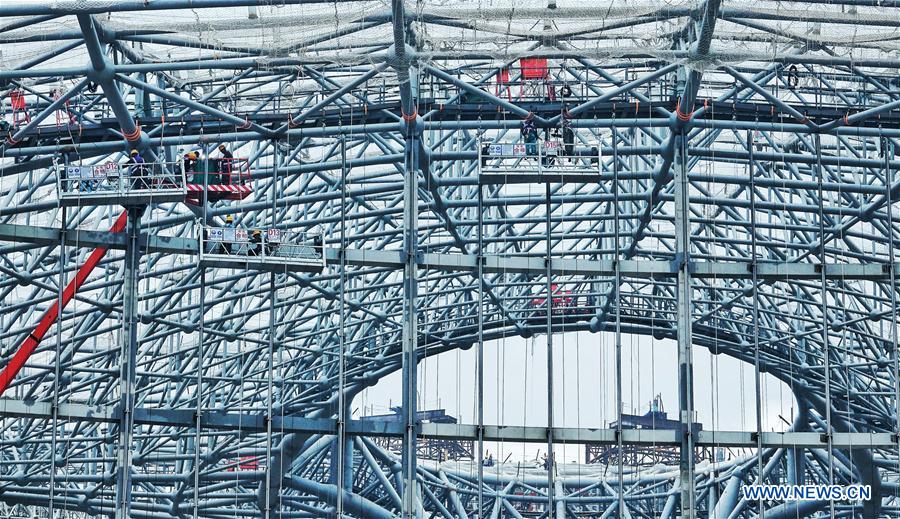 The steel and glass structure of the airport terminal's roof. Photo: Xinhua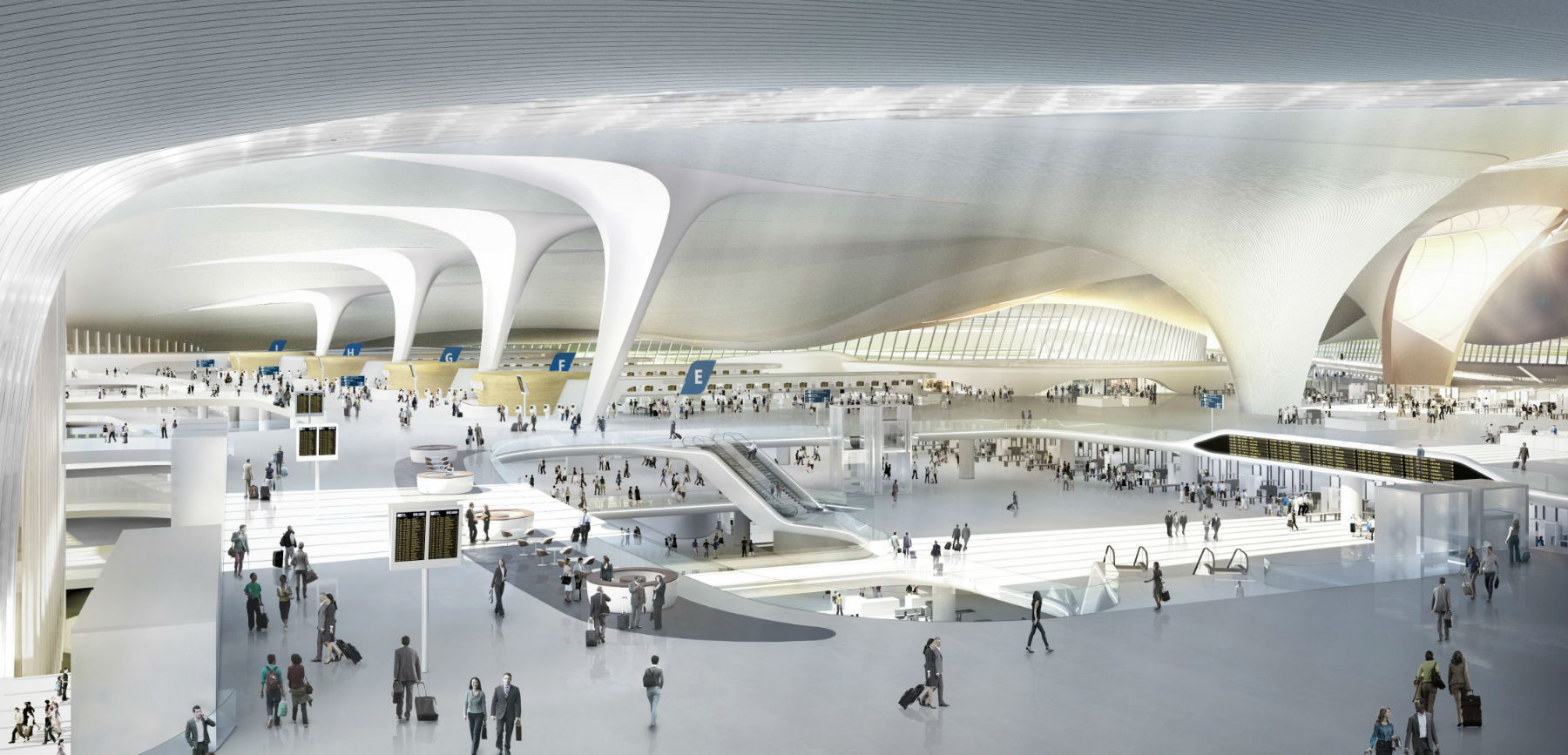 An image showing the interior design of the terminal. Photo: Zaha Hadid Architects

Hadid once noted that the flowing roof lines of the humongous terminal cover column-free spaces to create a sense of scale and orientation, welcoming the world to Beijing.

As for passengers, rather than walking along one long corridor to transfer between flights, the radial design allows them to walk a shorter distance to the center of the airport, then cut across the central atrium to their next destination.

The design team also noted that the compact design – housing many departure gates in one terminal with a single passenger handling center – could reduce the need for shuttle trains between the many terminals that were common at other large airports, Xinhua reported.

When up and running, Daxing will reduce congestion at the existing airport. The state-owned China Eastern Airlines and China Southern Airlines, as well as other members of the SkyTeam alliance, will be the main carriers for the airport, while Air China and its Star Alliance partners will remain at the existing Beijing Capital.

The 102 foreign airline companies that currently fly to the existing airport are closely monitoring possible changes. Although the plan says all SkyTeam members will move to the new airport, a manager at SkyTeam said it was possible that foreign airlines would be allowed to remain at their current locations.

Yu Zhanfu, a principal consultant at Roland Berger, told Caixin that allocating airlines based on the alliance to which they belong may be the most convenient solution as alliance members often have code-sharing and flight-connection agreements.

Project contractor Beijing Construction Engineering Group said installation of the 188,000-square-meter metal roof had already been completed and phase 1 of construction would be wrapped up by July 2019 to kick-start test operations three months later.

Future phases will bring the total number of runways at Daxing to eight.


source: http://www.atimes.com/article/new-beijing-airport-aiming-to-be-the-worlds-busiest/