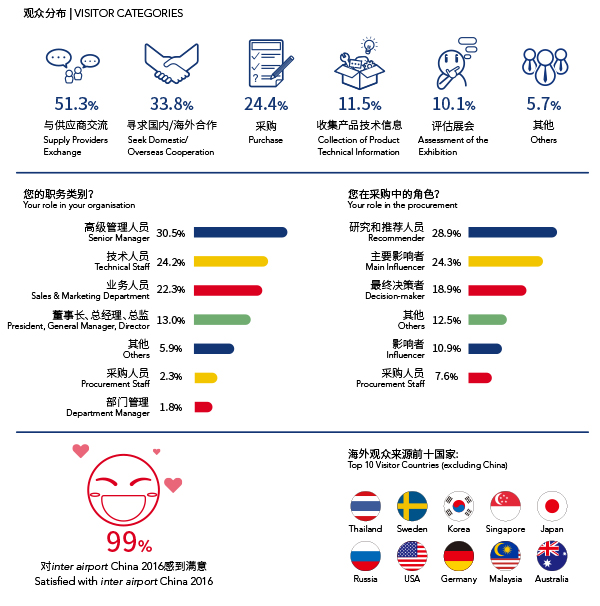 Images are in JPG format. Please click any photo to view a larger version.
Videos inter airport China 2014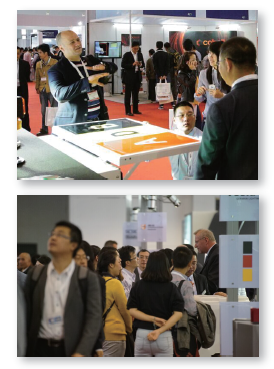 The inter airport China 2016 made several breakthroughs with unprecedented exhibition area, exhibit quantity, visitor origin, and number of visitors and VIP buyers. More than 100 airport equipment manufacturers and brands from 15 countries and regions participated in the event, with a total exhibition area up to 10,000m2.

Visitors were all from the airport industry, including China's large airlines and top 35 airports. A delegation consisting of visitors came to the scene, and they communicated with exhibitors and held talks on trade.

Some of delegations:

Civil Aviation Management Institute of China
China Academy of Civil Aviation Science and Technology
Institute of Comprehensive Transportation of National Development and Reform Commission
China International Engineering Consulting Corporation
The Construction Headquarter of Beijing Daxing International Airport
The Construction Headquarter of Chengdu Tianfu International Airport
East China Architectural Design & Research Institute
The Planning and Design Institute of China Airport Construction Group Corporation of CAAC
China Aviation Planning and Construction Development Co., Ltd.
Air Force Engineering Design and Research Bureau
Kunming Changshui International Airport
All photographs, videos, logos and text material on this site may be used for editorial purposes only, in line with standard journalistic practice. All other use requires the prior written consent of Mack Brooks Exhibitions (Shanghai) Ltd.