Welcome to inter airport China 2018
As China's largest and leading trade show in the field of airport construction,
inter airport
China is also an international event creating opportunities for in-depth cooperation and exchanges between buyers and sellers of airport industry, accelerating construction and boosting innovation-driven development. Meanwhile, it's one of the exhibition series of
inter airport
Europe and
inter airport
South East Asia. Over the past 14 years,
inter airport
China has been successfully held seven editions. More than hundreds of enterprises and ten thousands of visitors have witnessed the rapid development of China's civil airport business. At the show, in addition to a variety of cutting-edge technologies, advanced equipment and systems and excellent airport service ideas, you may also have chances to communicate with a large number of leaders and professional visitors from China's major airports and airlines, as well as those visitors engaged in airport-related work at home and abroad.
The 8th edition of
inter airport
China will be held at
China International Exhibition Center(Jing An Zhuang), Beijing
from
5th to 7th September 2018
. We will continue to provide a comprehensive showcase for airport equipment, technology, design and services. The event will offer the best opportunities for the airport operators, airline professionals and aviation experts to prepare themselves for the future challenges of an increasingly dynamic, large and competitive Chinese airport market.
Highlights
·

Meet the Chinese Aviation Authorities -
Master China's aviation blueprint and a peek into the latest industrial insde news
·

Tailored "Meet the buyer" Programme
- Invite buyers from top 50 Chinese airports and new airport projects
·

An Even Bigger Outdoor Display Area
- showcase more comprehensive airport ground support equipment

Buyer Invitation Services

In order to enhance your participation experience with us, we provide the following services to all of our exhibitors.

•Tailored E-shots and Wechat promotions
•Personal invitations to 20,000 targeted Chinese and Asia airport professionals
•Cooperation with Chinese and international leading associations and media
•Matchmaking service
•Press releases and show preview
•Other online marketing packages

The inter airport Family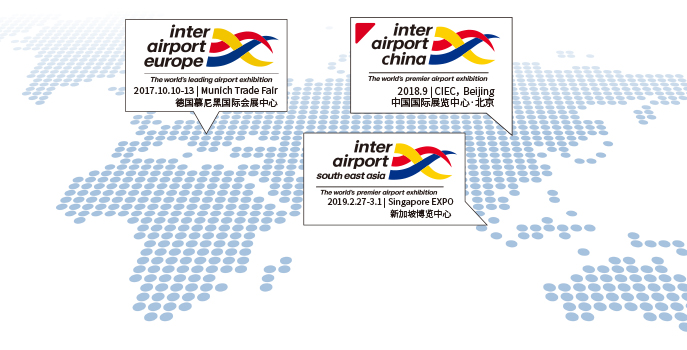 Organizer



Mack Brooks Exhibitions Group builds markets worldwide by bringing buyers and sellers together in dedicated marketplaces. Established in UK in 1965, the company has also world wide subsidiaries respecitvely in Chicago, Boston, Bangkok, Gurgaon and Shanghai. Mack Brooks Exhibitions Group owns and organises more than 20 leading international trade fairs and 'business to business' exhibitions, events and conferences around the world each year. The portfolio of events covers specialised technology areas including sheet metal working, airport technology, rail technology, traffic management, construction, tunnelling, waste management, recycling, water technology, fastening and fixing technology, speciality chemicals, corrugated and carton manufacturing, paper, film and foil converting, printing and packaging. The Mack Brooks Group also publishes related directories, magazines, sector reports and websites.

Lead Media Partner



Momberger Airport Information
is the independent source of information for airport professionals around the world, published biweekly since 1973. It provides unbiased news free of advertising. The newsletter is published in a modular format that allows subscribers to put together their own newsletter package that matches their professional interest in the airport industry.