Welcome to inter airport China 2018
The 8th edition of inter airport China will be held in Beijing on September 2018. As China's premier airport exhibition, it provides the comprehensive showcase for the airport equipment, technology, design and services and offers the best opportunity for airport operators, airline professionals and aviation experts to prepare themselves for the future challenges of an increasingly dynamic, large and competitive Chinese airport market.
Nowadays, most of China's small- and mid-sized airports are suffering losses as the increase of passenger traffic is not enough to cover operational costs. Investment is set to rise further in China with 80% of these airports expecting budgets to increase again as the country prepares to manage more than 870 million passengers by 2016. inter airport China 2018 will focus on the IT software, structural designs and new operational and passenger management technologies to optimize the efficiency of Chinese airports. We are inviting the leading solution providers around the world to join us in helping to build greener, more cost-effective and better Chinese airports.
As part of ambitious expansion plans in the industry, China will build 70 new airports. The most exciting project, Beijing Capital Second International Airport is a planned new international airport serving Beijing. It will consist of 7 runways and has a capacity of 75 million passengers by 2025. The estimated cost of construction for this project alone is more than US$11.2 billion. Moreover, the world's largest satellite concourse is set to be built at Shanghai Pudong Airport (PVG). These expansion programme make China the most exciting and dynamic market in the world, Beijing and Shanghai are still the centre of Chinese aviation industry.
Highlights
·

Meet the Chinese Aviation Authorities -
Master China's aviation blueprint and a peek into the latest industrial insde news
·

Tailored "Meet the buyer" Programme
- Invite buyers from top 50 Chinese airports and new airport projects
·

An Even Bigger Outdoor Display Area
- showcase more comprehensive airport ground support equipment

Buyer Invitation Services

In order to enhance your participation experience with us, we provide the following services to all of our exhibitors.

•Tailored E-shots and Wechat promotions
•Personal invitations to 20,000 targeted Chinese and Asia airport professionals
•Cooperation with Chinese and international leading associations and media
•Matchmaking service
•Press releases and show preview
•Other online marketing packages

The inter airport Family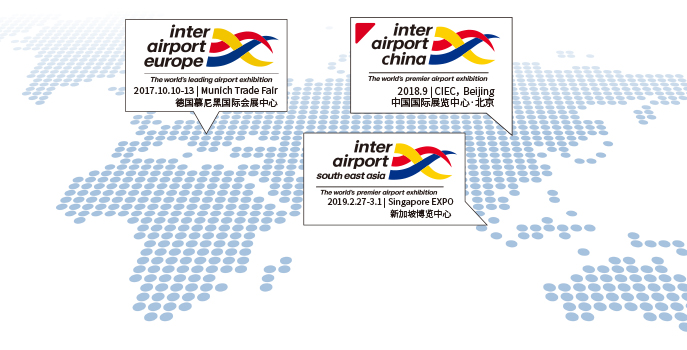 Supporting Organisations


Organizer



The Mack Brooks Exhibitions Group builds markets worldwide by bringing buyers and sellers together in dedicated marketplaces. Established in 1965, the company owns and organises leading international trade fairs and 'business to business' exhibitions, events and conferences around the world in specialised industry sectors. The Mack Brooks Group also publishes related directories, magazines, sector reports and websites.
Mack Brooks Exhibitions is renowned for organising targeted trade exhibitions in diverse industrial sectors, such as engineering, transport, infrastructure, chemicals and industrial manufacturing. The portfolio of events covers specialised technology areas including sheet metal working, airport technology, rail technology, traffic management, construction, tunnelling, waste management, recycling, water technology, fastening and fixing technology, speciality chemicals, corrugated and carton manufacturing, paper, film and foil converting, printing and packaging. Mack Brooks Publishing's print and online publications provide market intelligence and expertise in related fields.
The company's major trade fairs such as EuroBLECH, the world's leading sheet metal working technology exhibition, bring together some 1,500 manufacturers and suppliers with more than 60,000 trade customers. Internationally renowned exhibition brands also include Fastener Fair, inter airport, ICE, BLECHevents, SIFER, Railtex, Exporail and INTERtunnel.
While the company's flagship events are designed for a global audience, Mack Brooks also offers dedicated exhibitions for regional markets, with a specific focus on investing in growth regions.
All events are held in prime locations and state-of-the-art venues; first class customer service being the key to Mack Brooks' excellent track record.